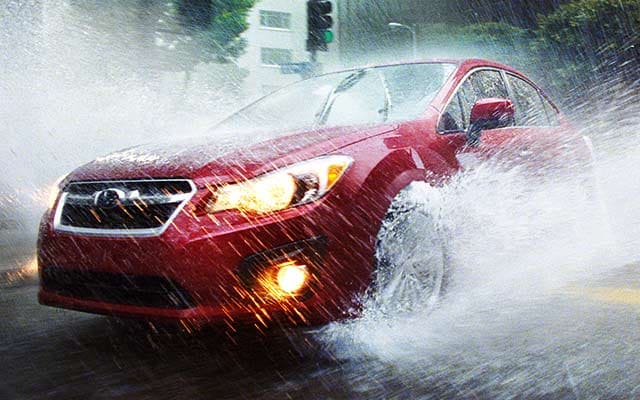 Safety First.
Subaru is the only manufacturer with IIHS Top Safety Picks for all models.

Subaru Active and Passive Safety -
You'll find our commitment
to safety in almost every aspect of Subaru design. From a uniquely poised All-Wheel Drive system, to a one-of-a-kind engine that can help protect you in an accident, we've created each of our vehicles with active and passive safety systems that mak

e
a Subaru - in a worst-case scenario - one of your best possible bets. This passionate commitment to your confidence was the reason Subaru was the only manufacturer to have each of its models tested named a IIHS Top Safety Pick and why we continue to win safety accolades year after year.


Exceptional Control -
Safety begins with avoidance. the traction and balance of Subaru Symmetrical All-Wheel Drive and the stability of the Subaru Boxer engine provide you with the outstanding control you need to react to hazards. Every Forester also comes standard with VDC electronic stability control, which can detect a loss of control and intervene to help keep you on your intended path.
Protected from the Outside -
During an impact, nothing is more crucial for the safety of all occupants than maintaining cabin integrity. Our frame design, the Ring-shaped Reinforcement Frame, is designed to be exceptionally strong for maximum resistance to impact energy. What's more, its unique configuration helps divert that energy away form occupants.
Protected on the Inside -
Front, front seat side-impact and side-curtain airbags - standard on every Subaru- surround outboard occupants in the event of a crash to further help prevent injury. To maximize their effectiveness, the advanced system found on the Subaru uses ab array if sensors, including a rollover sensor, to ensure the airbags are deployed in the best way possible.
Stopping Power -
Powerful and reliable disc brakes are teamed with advanced technologies to help you stop short of danger. Antilock brakes help make sure you don't lose traction and the advanced Brake Assist system helps ensure maximum pressure is applied to the brakes as quickly as possible in an emergency situation.