The 2021 Subaru Love Promise Customer and Community Commitment Award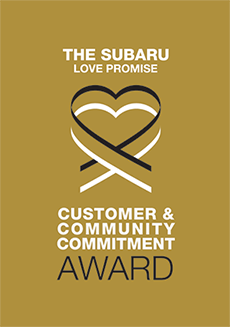 We've been nationally recognized for our dedication to our customers, our community, and the Subaru Love Promise.
We're honored to receive the 2021 Subaru Love Promise Customer and Community Commitment Award. This award nationally recognizes elite Subaru retailers who provide an exceptional customer experience at every interaction with Subaru. These retailers have also demonstrated an outstanding commitment to supporting passions and causes in their local communities in important areas such as the environment, community, health, education, and pets.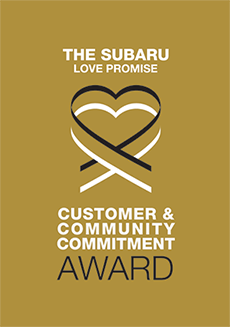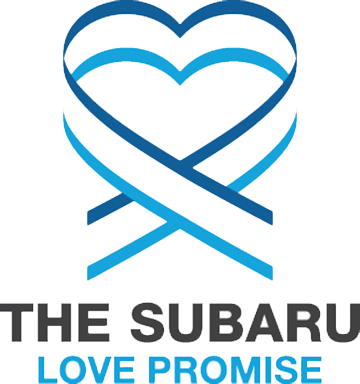 What is the Subaru Love Promise?
Subaru and our retailers believe in making the world a better place and the Subaru Love Promise is our vision of respecting all people. This is our commitment to show love and respect to our customers and to work to make a positive impact in the world.
How is Five Star Subaru dedicated locally to the Love Promise?
Our Love Promise can be seen in various partnerships with local charities and non-profits. Five Star Subaru recognizes the importance of our community and that is why we feel it is so important to support nonprofit agencies and community programs throughout the area. Here are just a few of the local agencies we support, this list is always growing and we love that. Because here at Five Star Subaru, we're grateful for the opportunity, not only to be a part of our community, but to serve it as well.
Susquehanna Animal Shelter, Little Mews, Delhi Humane Society
Otsego County Conservation Association, The Oneonta Farmers' Market, Gilbert Lake State Park
Oneonta World of Learning, Opportunites For Otsego, Community Arts Network, Fenimore Art Musem, The Farmer's Musem
The Family Service Association, Oneonta Family YMCA, Catskill Symphony Orchestra, First Night Oneonta, Orpheus Theatre
Relay For Life & American Cancer Society, Wounded Warrior Project, LEAF, Polar Bear Jump, Make-A-Wish
Love Promise Stories from Five Star Subaru
Subaru and Five Star Subaru believe in making a positive impact on the communities in which we live and work. We uphold that belief through our Love Promise Community Commitment. Every month, we select inspiring stories from customers and partners from around our area who strive to support our collective commitment and feature them here
Ice Harvest Festival support year after year! - Liz C
Ice harvests were once an essential part of winter in rural communities. Before there was refrigeration, ice was needed to preserve agricultural products and to keep food cold in the warmer months. Hanford Mills Museum celebrates this rural tradition with the Ice Harvest Festival, held on the first Saturday in February. Visitors come to experience hands-on history and winter fun. In addition to ice harvesting, there is ice fishing, ice carving and blacksmithing demonstrations. We also highlight area artisans, farmers, and local businesses and nonprofits. The creativity and generosity of Five Star Subaru has encouraged more people to attend each year and has helped establish the Ice Harvest Festival as the region's "coolest" tradition. We are very grateful for Five Stars' continued support of our signature events.
---
Little Delaware Youth Ensemble & Five Star Subaru - Kathleen H
For twenty years Little Delaware Youth Ensemble has provided an opportunity to talented elementary and secondary school string instrument players from Otsego and neighboring counties to develop their potential as orchestral performers. Five Star Subaru has supported us every step of the way. Their airing of ads annually notifying the public of our three free concerts has been invaluable to our success. We are grateful to them and look forward to our continued partnership.
---
First Night Oneonta Loves Five Star Subaru - Carol M
First Night Oneonta and the people we serve are deeply grateful to Five Star Subaru of Oneonta for being the driving force behind a great majority of the wonderful things that happen here and throughout the entire region. Largely because of Five Star's support, our community has become famous for arts, culture, creative opportunities for kids and exciting, admission free, family friendly events. The City of Oneonta recently ranked 8th in a study of most "Arts-Vibrant Communities in the US" and was also ranked in the "Top 20 Coolest Cities in the US" by Matador Network, a leading global media company. It's no exaggeration to say that without the support of Five Star Subaru, this would not have been possible. Just counting First Night events, we are so grateful to Five Star for sponsoring the Hometown 4th of July Celebration in Neahwa Park, the First Night New Years Eve Celebration of the Arts at the Foothills Performing Arts Center, the LEAF Art and Poetry Contest at the Community Arts Network and most recently, the Oneonta Festival of Lights. These events draw tens of thousands of families to, not only enjoy, but to participate in creative, healthy, community oriented arts activities. For all the love Five Star Subaru has shown to our residents, especially our youth, you have our eternal gratitude. To Ben and Blaine, Jessica and the rest of the team...you are the reason I personally own a Subaru Outback and the reason I would never buy a car anywhere but at Five Star! Carol Mandigo, Chair First Night Oneonta Prevention Specialist LEAF, Inc.
---
Share the Love with Head Start - Amy G
Opportunities for Otsego, Inc. Head Start is thankful for the generous support of Five Star Subaru. As the selected hometown charity for the Share the Love event, Five Star Subaru collected more than $12,000 that was given directly to Head Start teachers throughout Otsego County to purchase exciting and engaging materials to support the learning and development of the youngest and most vulnerable children in our community. We appreciate the support that Five Star extends to the community because we believe that it takes a happy, healthy, loving community to raise happy, healthy, loving children. Thank you Five Star Subaru for investing in our children!
---
Oneonta Concert Association - Elizabeth S
The OCA has been producing concerts in Oneonta for 92 years, and Five Star Subaru has been our lead sponsor for many years. We really appreciate their support and their work to create our television advertising spots. In this day and age it's more and more important to create opportunities for people to gather together for live performances of classical music, dance, jazz, chamber and folk music, and Five Star Subaru's support helps us do just that.
---
Five Star Subaru Delivery 2019 - Renita S
The Leukemia and Lymphoma Society of North Texas had the amazing pleasure to partner together with 5 Star Subaru on June 26 for their Subaru Loves to Care Program. As one of 8 neighborhood retailers, 5 Star delivered 80 blankets and 10 arts and crafts kits to Radiation Oncology, while also conveying hope, warmth, and uplifting words of encouragement to those currently being treated with and battling for their lives. Each blanket came along with a personal note of hope written by the customers and staff of 5 Star that the patients absolutely loved reading. The Leukemia and Lymphoma Society of North Texas is beyond appreciative for the kindness and commitment of 5 Star Subaru not only for our mission but also to those in our local community. Seeing the joy on patients' faces as the blankets were personally delivered was extremely rewarding and heartwarming. We are honored to collaborate with an organization that offers back to the absolute most meriting individuals and carries light to the darkness of a cancer diagnosis.
---
Orpheus Theatre and Five Star Subaru help children - William E
Orpheus Theatre has a very active children theatre program, teaching children the art of theatre from scriptwriting, to set design, prop and costume design and of course acting and movement for theatre skills. Perhaps the most important part of the process is team building. Children who have little or no social outlet prior to our program suddenly find a voice, confidence, and friendships. One year ago our company was at a crossroads. Through poor management decisions and simple indifference, the previous board had left the company in difficult shape. A new board was formed and one of the first actions was to approach Ben Guenther and Five Star Subaru, a company well known in our area for community support. With Bens' help and guidance Orpheus Theatre focused on our children programming, something we agreed was the most important aspect of our work in the community. Ben promised to promote our audition and show dates then followed through with the best promotion we could have asked for. A total of 9 sold out shows in performances of Beauty and the Beast Jr., Chicago Jr. and The Jungle Book Jr. and we were back on strong footing. Because of the personal time spent both in guidance and advice from Mr. Guenther combined with the sponsorship and marketing programs provided by Five Star Subaru we are planning a full 2018/2019 schedule of shows and look forward to serving the Oneonta community with great community theatre for years to come. It's a partnership that will last for years... and we're all thankful for the Love that Five Star Subaru has shown for our company and our community for many years. William ErarioTreasurer- Orpheus Theatre Board of Directors
---
Five Star Subaru Partners with The Farmers' Museum - Joseph M
Each year, 100,000 guests visit the Fenimore Art Museum and The Farmers' Museum for cultural offerings that connect individuals and families with the traditions of their past. Events include Sugaring Off, 71st Annual Junior Livestock Show, Candlelight Evening, Art by the Lake and in 2019, an exhibition - Herb Ritts – Rock Portraits. This exhibition is being done in association with the Rock & Roll Hall of Fame. It takes a great deal of publicity to alert our constituents of the events and activities that are available. We are very fortunate to have a dear friend in Five Star Subaru who helps us with this publicity. Ben and Jessica Guenther not only underwrite the cost of the television spots but they are also engaged in the production of the segments. The Cooperstown/Oneonta region is very fortunate to have these caring business leaders dedicating a good portion of their time to benefit the charities that benefit us all. Subaru is a great vehicle and the Guenthers are fantastic ambassadors. Happy Holidays!
---
33 Animals Adopted Thanks to Five Star Subaru - Rebecca D
In 2017, our local Five Star Subaru chose the Susquehanna SPCA as their hometown charity for the Share the Love Event. Thanks to them, we were able to have a free, same day adoption day and found homes for 33 animals in 5 hours! We were blown away by the overwhelming response we had to the event, and it would not have been possible without Five Star Subaru. Thanks to them, we were able to completely change the lives of 33 animals in just one day! We had lots of very happy adoptions as a result; Danny, a very shy dog who had a hard time finding a home, Geronimo, a senior cat who waited in the shelter for months after his owner passed away, and so many more! We are so grateful and proud to partner with such a generous, outstanding organization. It is apparent how willing our community is to help improve the lives of animals in our county, and we look forward to continuing making a difference one animal at a time!
---
Cooperstown Concert Series & Five Star Subaru - Jeff K
Three seasons ago, Cooperstown Concert Series, entering its 47th season, approached Five Star Subaru, wondering if they would be willing to run TV ads for us. Even though Concert Series has been around for a long time, it's run by a small group of volunteers and we were a bit nervous about asking, assuming Five Star would think we weren't worth their time. We should have known better. Five Star, which shows its commitment to the community every day of the year, couldn't have been more friendly, open and easy to work with. Having each of our six concerts advertised on TV has been a boon to our organization, and has made more people in the area take notice. Often, after another great concert, someone will come up to me and say, "I had no idea you guys were here!" Thanks, Five Star Subaru, for giving our old series new life.
---
Subaru and NWF Love the Earth! - Nancy O
On behalf of Greater Plains Elementary School, I would like to thank you for the supplies for our garden
---
Earth Festival Thrives Thanks to Five Star Subaru - Ben G
In 2005, representatives of Otsego County-based environmental organizations and conservation-minded citizens partnered to present their first Earth Festival a free, environmentally focused, interactive event featuring exhibits, workshops, vendors, food, and entertainment, all with a fun, earth-friendly twist. This past April, as Earth Festival celebrated its tenth anniversary, attendance figures broke 1,000 and are believed to have topped all previous years. Increased participation has been an Earth Festival trend since 2010, when Five Star Subaru donated its first television commercial to the cause. Five Star Subaru has continued to sponsor and promote Earth Festival with TV commercials each year and, in turn, exhibitors and vendors have more than doubled from 2010-2015, and attendance has more than tripled. Owing in large part to Five Star Subaru, Earth Festival now a perennial Otsego County favorite continues to reach a diverse, growing audience with its vital message on the importance of protecting, preserving and enhancing our natural resources. Thanks, Five Star Subaru!
---
The LiveFit Challenge & Five Star Subaru! - Raegan R
Five Star Subaru in Oneonta has been a sponsor of The Cardio Club's Community Weight Loss Program two years running. It is called the "LiveFit Challenge" and our community members have lost over 2000 pounds. With the help of Five Star Subaru and other sponsors we are able to promote this challenge through advertisement, tee shirts, etc. We are grateful for their partnership!
---
Share the Love event and winter wear drive 2014 - Patricia L
Last year, Jessica Guenther of Five Star Subaru approached us and asked if we would like to be part of their "Share The Love" Event. They explained that from each car sold we had the potential to get a donation of $250! We were ecstatic and hoped to raise a couple thousand dollars from this event. Little did we know that Five Star would raise over $14,000! Also, as part of this event they held a winter wear drive during holiday season of 2014. Being that this was one of the coldest winters on records it was severely needed in our area. Five Star Subaru collected over 400 items from the drive! We can't thank Five Star enough for such a wonderful opportunity to partner with them.
---
Five Star Subaru fills a Forester full of toys - Melissa B
In the winter of 2013 Five Star Subaru partnered with Toys For Tots in hopes of collecting 100 toys for less fortunate children in the community for the holidays. After quickly passing their 100-toy goal they decided to see if they could fill a Subaru Forester full of toys. As the toys kept coming in from their amazing employees, customers and community members, the Forester was soon bursting at the seams and we knew they would meet their goal. By December 23rd they had filled the Forester and were so honored by everyone's generous donations that they donated an additional $536 worth of toys to the cause.
---
Five Star Subaru Sponsors Local Events - Carol M
Since buying Five Star Subaru in 2005, the owners Ben Guenther and Blaine Jennings have been proud to provide free community events for families to enjoy. Five Star Subaru sponsors the Hometown 4th of July, First Night on New Years Eve, The Balloon Festival on Labor Day weekend, numerous musical concerts at the park and Foothills Performing Arts Center to benefit local non-profits. Five Star recently started their own art gallery, as well, at the store to allow local artists the chance to display and sell their art free of charge. Supporting local events and arts in the community is very important to the owners of Five Star Subaru. Five Star truly believes that a thriving community is good for everyone and does whatever they can to give back to the community as often as possible!
---
Relay for Life - Helen G
Many lives have been touched by someone who has had cancer, including many of the employees at Five Star Subaru. So when Breast Cancer Awareness Month came around in the fall of 2013, Five Star Subaru felt driven to raise money for cancer patients to help find a cure. Five Star Subaru went all-out with pink balloons and pink ribbons. The service department put pink ribbons on every vehicle that came in for service and donated $5 for every pink ribbon they displayed! They donated all money raised to the local Relay For Life organization. After working so closely with the Relay For Life organization, they felt that they couldn't just stop there, so they committed to support all of the local Relay For Life events in the area. They wrapped a vehicle in Relay For Life swag, sold name decals for those who wanted to honor someone who lost or won the battle to cancer, and all donations were given to the American Cancer Society. They also ran numerous television ads to raise more money and awareness for the events. Overall, it was an amazing successful year of fundraising, but of course they won't stop until the battle is won. They plan on continuing to do these same events every year!
---