2015 Subaru Forester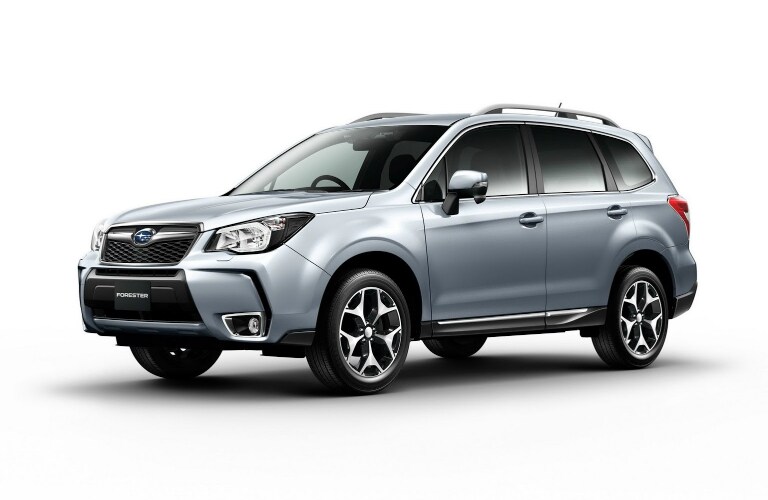 The 2015 Subaru Forester is great for individuals who love the outdoors and need a durable and reliable vehicle that can still be driven on city streets without looking excessively bulky and out of place. It is also great for those of us who maybe aren't as "outdoorsy", but still live in upstate NY and have to navigate our local weaving roads, daunting hills, and a weather pattern that is barely predictable.
Weather:
Snow, sleet, and sometimes just a huge gust of wind can make a ride in your car unpleasant and even life threatening. Owning bulky and heavy trucks solve the safety problem, but sacrifice efficient fuel mileage, which leads to high costs of operation. Fortunately, the Subaru Forester is the blend of a beautiful luxury car and the safety of large durable truck with the results being a sleek, affordable, and overall stylish package. Why have to choose between the two different worlds when you can have it all?
Safety:
With the rear mounted camera, all weather abilities, Eyesight, seven airbags (all aspects of the vehicle receive at least a "good" in crash test ratings), and many other crash prevention features, the Subaru Forester is simply a safe vehicle. Safety features should be embraced by all drivers, as injury prevention is the most important aspect of day to day driving. You can relax knowing that the Forester's safety rating of 5/5 (IIHS rating) has you protected.
Gas Mileage:
Gas mileage is rated highly for the Forester, with 33 miles to the gallon (25 mpg city driving) the Forester is extremely efficient for a vehicle of its size and relative power.
Standard Features:
Most customers would agree that the rear camera that is built into the standard 2015 Forester is possibly one of the most underrated features. As drivers, we became use to the uncertainly and discomfort of driving our cars in reverse when pulling out of a parking spot, but with rear view, you can put all that discomfort to rest knowing that you can safely see your car's path in areas that were previously well within the average car's blind spot (grab a brochure out in the showroom and add some more, like Subaru's symmetrical AWD and what makes it better than other AWD vehicles on the market).
-All weather abilities of the Forester provide the driver with the control and confidence to take on daunting terrain or in the case of New York residents, take on our harshest and most unforgiving winters. Vehicle Dynamics Control (VDC) constantly monitors braking, steering input and trajectory to help keep you on course regardless of the road conditions.
MSRP starts at $23,050
Other Features:
-Adaptive cruise control allows you to turn on cruise control and feel safe knowing that the car's cruise control system automatically adjusts speed using a laser to measure objects in front of you, which is extremely useful for highway driving where people drive close together and at irregular speeds.
-Eyesight is another speed control feature with its primary purpose being to act as an extra set of eyes for crash prevention. Eyesight recognizes an obstacle or obstruction and takes control of the car's break system so that you can avoid undesirable contact with the obstruction.
-Bluetooth capable for syncing mobile devices or other electronics with compatible Bluetooth features
- Navigational features of the Forester offer accurate and reliable mapping systems to ensure you arrive at your destination whether it requires you to navigate through a complex city atmosphere, or the twisted dirt roads of a nature filled family outing.